Custom made Chef just for just you?


I makeall my tools by hand, also Chef, all parts. That means that if you have any wishes - I can build the Chef that fits just you and your needs.

The Chef can be ordered as a standard Chef, but Chef can also be custom made to your special needs.

This means that the standard Chef can be made in different ways, for example, the standard Chef has a loop of brass where the guide rod slides thru, "the pivot point". You can order the Chef with a real pivot instead of the loop.

A longer grinding table (standard big grinding table is 6" cm), you could if you like to have it 20 cm long, or longer than that. If you sharpen very long blades you will also need a wider foot on Chef.

Do you like to have a grinding table for sharpening thin and flexible fillet knifes, I can make you one.

The standard sharpener (stone) holder can use up to 6" long sharpeners, would you like to have a sharpener holder that can use 8 - 9" long sharpeners? You order that instead of the standard sharpener holder.

Do you need a file holder so that you can file edges? Do you need a special holder for your needle files? Or do you need a convex diamond sharpener? I can make whatever you need.

You can inform me what you would like I will build a Chef you request with the equipment you would like use with it.

If you have any special demands or would you like to be able to sharpen some special type of edged tool? Inform me about it and see if I can help you with some extra functions for your Chef.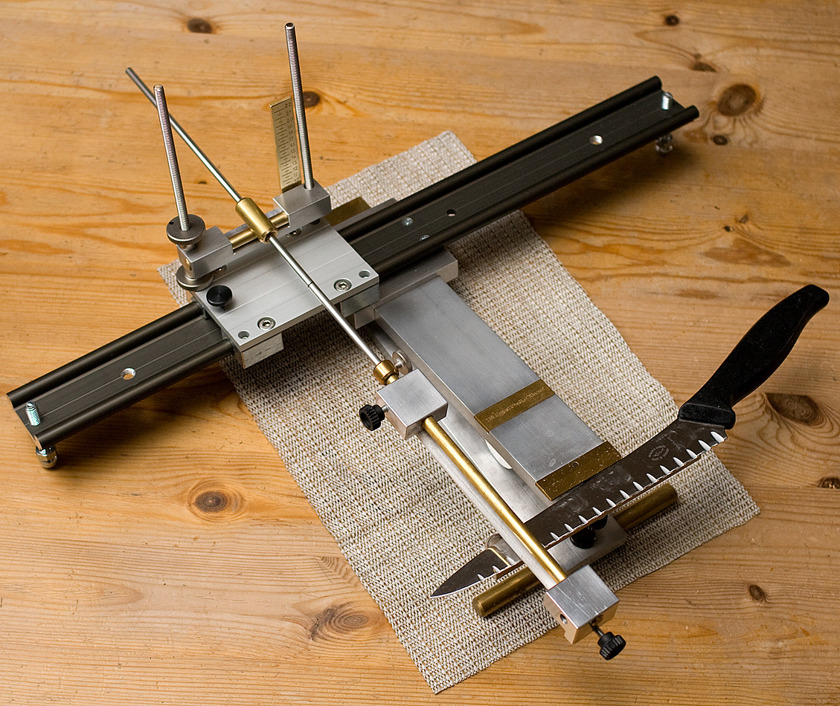 This picture shows EdgePal Chef with EdgePal Rail, standard sharpener holder (can use up to 6" sharpeners in length).